AT&T reveals the gargantuan Samsung Galaxy View 2 tablet
2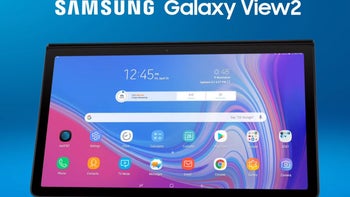 A set of pictures showing the next massive tablet coming from Samsung surfaced online
a couple of days ago
, probably forcing AT&T to confirm the release of the Galaxy View 2 earlier. Since this confirmation comes in the form of a video, the carrier doesn't offer any details regarding the tablet's availability and price.
However, we do find out that the Samsung Galaxy View 2 boasts a huge 17.3-inch full HD display, slightly smaller than the original's Galaxy View 18.4-inch screen. Also, it packs 4G LTE connectivity and quad speakers with Dolby Atmos support, as well as a couple of AT&T services like NumberSync and Video Call.
Such a massive display needs a generous battery and Samsung does provide on these expectations. The
Galaxy View 2
is powered by a no less impressive 12,000 mAh battery. Also, it includes 64GB expandable storage (up to 400GB), and that's everything that we've been able to learn from the video published by AT&T.
Just about every technical aspect of the original Galaxy View has been massively improved, but it's unlikely that AT&T will hike the price too. If you don't remember, AT&T released the Galaxy View almost four years ago for $499.99 with a new two-year agreement. Also, the carrier offered the tablet for just $99.99 to those who would sign up for new DirectTV service with a two-year contract.