AT&T Wireless starts selling Samsung E316 camera phone and Nokia 6620 smartphone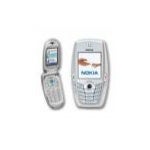 If you liked the Samsung x426 will definitely love the E316. E316 is almost identical to its predecessor, expect that now includes external TFT display with 65k colors, as well as internal 65k TFT display. VGA (640 x 480 pixels) camera is also part of the package. The E316 like the X426 only supports US frequency bands, so it can not be used in Europe.
The Samsung e316 will be available nationwide August 11, 2004 for $199 (after a $70 instant activation credit, $50 mail-in rebate and 2-year contract). The phone will be available at select AT&T Wireless retail outlets, authorized dealers and online.
Full Samsung SGH-e316 specification and features here.
---
AT&T Wireless also started selling Nokia 6620 - phone identical to 6600 but also featuring EDGE high speed data. The device is Symbian OS 7 smartphone and features almost all imaginable features possible - Bluetooth, VGA camera, 65k display, Java, HTML browser, voice-dialing, infrared, POP3/IMAP4 email clients etc. The 6620 costs sells right now for $469 - $170 instant rebate for total of $299.99.
Full Samsung SGH-e316 specification and features here.