ASUS ZenFone 2 Laser announced for the U.S., available now starting at $199
3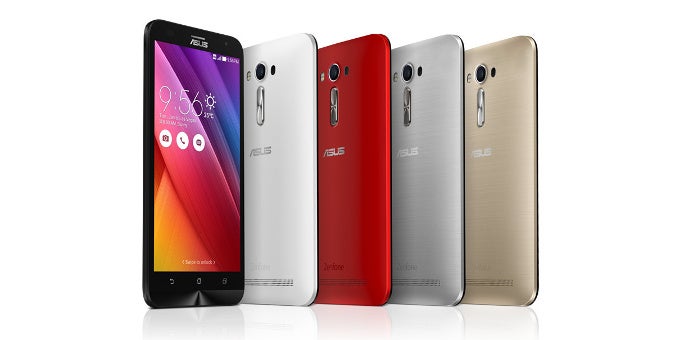 Earlier this year, ASUS launched a slew of
ZenFone 2 derivatives in India
. These were the ZenFone 2 Deluxe, 3 variations of the ZenFone 2 Laser, ZenFone Selfie, and the ZenFone Max. At the time, it was unknown if these will ever make it out of India, but it seems that one of ZenFone 2 Laser versions has just hit the States.
Today, ASUS announced the launch of the ZenFone 2 Laser (ZE551KL) to the US as an unlocked device, a device that couples mid-range specs with a rather attractive pricing. Here's what the handset offers in the specs department: if we are to strip it down, we'll find a Snapdragon 615 chipset paired with an Adreno 405 GPU, 3 gigs of RAM, while a 5.5-inch 1080p display shielded by a Gorilla Glass 4 sheet is making the rounds at the front. The device will be available in 16 and 32GB versions; a microSD card slot, two SIM card slots, and a 3,000mAh battery are also inside the phone.
The 13MP rear camera of the ZenFone 2 Laser is, undoubtedly, is one of its defining features. Dubbed PixelMaster 2.0, it is endowed with laser auto-focus tech which does not only provide an appropriate name for the device, but also makes sure that any object can be focused in merely 0.3 seconds, which is an impressive feat for a mid-range device. The snapper also comes with an F/2.0, 5-element lens and is aided by a dual LED flash.
You can snatch an unlocked ASUS ZenFone 2 Laser straight from the ASUS Store or
Newegg
starting today. The 16GB version will set you back $199, while the 32GB one will retail for $249. Any takers?
ASUS Releases ZenFone 2 Laser
ASUS ZenFone 2 Laser delivers a premium phone with laser auto focus, octa-core performance, dual active SIM, Corning Gorilla Glass 4 and removable battery to value-conscious users
KEY POINTS
Lightning-fast laser auto focus 13 mega-pixel PixelMaster 2.0 camera
Dual active SIM with selectable LTE data connectivity
Octa-core Qualcomm Snapdragon 615 processor with Adreno 405 graphics
Removable battery
Fremont, California (November 2, 2015) -- ASUS today releases the unlocked ZenFone 2 Laser for users seeking a premium phone with an excellent camera, dual active SIM, expandable storage and removable battery. The latest addition to the ZenFone 2 lineup features an ergonomic design for greater comfort and a 5.5-inch 1080p display protected with Corning Gorilla Glass 4 for unprecedented damage protection.
Powered by an octa-core Qualcomm Snapdragon 615 with Adreno 405 graphics delivers an excellent performance without sacrificing battery life. The high-performance processor is matched with 3GB of RAM for fluid multi-tasking and snappy system responsiveness.
New to the ZenFone 2 Laser is an enhanced PixelMaster 2.0 camera with laser auto-focus for lightning-fast and laser-sharp images. The 13-megapixel rear camera packs a wide-angle F/2.0 aperture lens composed of 5-elements for crystal clear images. Dual LED real tone flash enables the ZenFone 2 laser to capture images in low-light situations while maintaining natural skin tones.
The ZenFone 2 Laser supports dual active SIM for simultaneous connectivity to two cellular networks. Dual active SIM is perfect for users that want to consolidate two phone-lines into a single device. Selectable LTE data connectivity enables users to switch which SIM card is used for data through the Android settings, which makes the ZenFone 2 Laser perfect for international travelers.
Expandable memory and a removable battery makes the ideal for enthusiast users that want greater control of storage and power. A micro SDXC slot supports 128GB memory cards for quick and easy storage expansion to accommodate music, movies and select applications. The removable 3000mAh high-capacity battery ensures the ZenFone 2 Laser gets excellent battery life that lasts through the entire work day. Power users that desire longer runtimes can quickly swap out a fully charged battery for extended periods away from a power source.
Pricing and availability
The ZenFone 2 Laser (ZE551KL) 16GB will available for $199 and the 32GB for $249 at Newegg and the ASUS Store in November.