A simple add-on turns the Samsung Galaxy Nexus into a Galaxy S III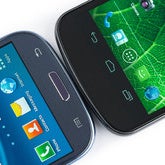 "Made for humans, inspired by nature."
This is what defines the Samsung Galaxy S III's design and user interface, and while we're not all that crazy about the design, the user interface seems to be lighter, less taxing on the system and generally pleasant with its watery sounds and effects. And now there's an easy way to transplant that experience to Samsung's Galaxy Nexus.
XDA Developers senior member "madphone" compiled all of the various hacks into a single package that will port a lot of the S3-specific apps to your G Nexus. Here's what you get with this:
- the TouchWiz UX launcher,
- the S Voice app,
- Galaxy S3 sounds,
- the Memo app,
- a bunch of Live Wallpapers,
- the Apollo Music Player,
- the Power-Button Menu theme.
It should work on the most popular ICS mods like CyanogenMod 9 Nightlies and AOKP. You'd need one of those ROMs first before installing this add-on.
The best thing about the add-on is the developer commitment behind it as just in the last couple of days it's been updated several times to fix the initial bugs. Check out the video below to see the add-on in action and hit the source for instructions on installing.