A giant phablet or a small tablet? The Sony Xperia Z Ultra gets sized up against the 2013 Nexus 7
99+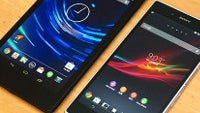 With smartphone diagonals continuingto soar to ever greater heights, we may soon have to calibrate ourunderstanding of what exactly classifies as a phablet, and what setsit apart from a smaller tablet. This is particularly valid withSony's 6.44-inch device, the Xperia Z Ultra, but it's far from theonly contender in the category of mega phablets. Samsung'sGalaxy Mega 6.3 measures in at just as impressive 6.3-inches, whileHuawei'sAscend Mate is sporting a more "frugal" 6.1-inch diagonal.
Unlike the restof the world, some parts of the globe (like Hong Kong) have alreadyseen the official launch of the Xperia Z Ultra. As such, they've beenable to pit the mammoth from Sony with a review unit of the 2013Nexus 7.
Sohow close is the Sony Xperia Z Ultra to a tablet? Dangerously close,as the nice folks behind RingHKhave demonstrated for us. But don't just take our word for it –make haste and see it for yourself below!
source: RingHKvia XPERIA Blog