Acer beTouch E100 Review

This is a global GSM phone. It can be used with AT&T and T-Mobile USA.

Introduction and Design:
The
Acer beTouch E100
is an entry-level Windows Mobile 6.5 phone. It is equipped with 2-megapixel camera, 528MHz processor, A-GPS and 3G, but lacks Wi-Fi and accelerometer. There is also a second version of the phone, the
Acer beTouch E101
that comes without 3G support. Both models come in white and black color solutions and the first does look more spectacular. The cool thing is that the device comes boxed with 3 additional back panels (pink, red and green) that allow you to change its look in but a few seconds. The materials it´s made from will always remind you of the fact you´ve bought an affordable cell phone, because the manufacturer hasn't paid the attention to details that you can notice with the
Samsung OmniaLITE B7300
and
HTC Touch2
, the major rivals of this handset.
What's in the box:
• Acer beTouch E100
• Charger
• miniUSB cable
• 3 additional back panels
• Screen protector
• Stereo headset
• User Guide
• Software CDs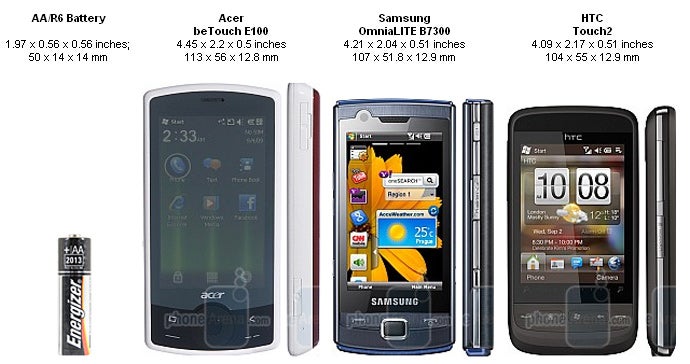 You can compare the Acer beTouch E100 with many other phones using our
Size Visualization Tool.
The Acer beTouch E100 comes with
3.2-inch display
that utilizes resistive technology. Its sensitivity is acceptable - the screen rarely failed to register our actions and actually, most of the problems relate to the interface of Windows Mobile 6.5. It has native resolution of 240x400 pixels, supports 65k colors and images look worn-out even in the dark. Unfortunately, the screen is totally unusable in direct sunlight, but at least you will have an almost immaculate mirror in this case.
The buttons
around the navigational pad aren't raised enough, but they have pronounced travel. The interesting thing is that
the pad is touch-sensitive
(capacitive) and circular motions allow you to navigate throughout menus. The pad has, however, also fallen victim to the penny-pinching build-quality and its edges start collecting dust and dirt right away. Moreover, it´s not really pleasing to operate, because said edges also create annoying, discomforting feel.
Aside from the slider that puts the phone in silence mode,
all other buttons
aren't raised enough, but they are easy to press. Despite the fact that most manufacturers have already adopted the latest, microUSB standard, the Acer beTouch E100 comes with miniUSB port.
Acer beTouch E100 360 Degrees View: Recommended Stories