Best Walmart deals on Prime Day 2022: recap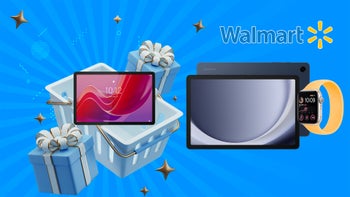 Amazon's
Prime Day
is the mid-Summer super sales event that is now an annual tradition. As we well know, major retailers aren't ones to let Amazon have all the fun.
Target has its Deal Days
event and Walmart is holding Days of Deals, held at the same time to coincide with Prime Day. Both are 3-day shopping sprees with massive discounts across multiple categories.
The show is over now, as Prime Day 2022 is gone and passed. But here's a recap — the deals you missed and the kind of discounts you can expect whenever there's a sales event in the near future.
Best smartphone and tablet deals during Walmart Deals for Days
We didn't get any notable discounts for hot Samsung devices or iPhones, but we did get some bargains for older iPhones.
The iPhone 11 was available for $100-$200 off with Cricket or a Walmart Family plan, respectively. Sure, it's a bit of an older device, but Apple still supports it. We figured, an iPhone 11 for $300 is still a pretty good deal!
The older Moto G Power (2021) was up at a promo price of $180, which is pretty good. Motorola knows how to make an affordable Android smartphone, and the Power has... power for days.
The Galaxy Tab S7 FE offers a huge screen, an S Pen, and 5G connectivity. Walmart had it up for $150 off, which was pretty good for tablet lovers that want connectivity everywhere.
The Galaxy Tab S7+ is a bit long in the tooth now, but its screen and its S Pen stylus are still excellent. Having this for $474 up on Walmart's website was an absolute steal for those looking for a tablet with a huge screen at a good price.
The Galaxy Tab A8 is a great multimedia machine for not a lot of money. Walmart had it at $50 off, bringing its price down to $180.
Walmart was one of the few retailers to give us an actual deal on the previous gen iPad Air. Its price was slashed down to $380, which is pretty good for an Apple tablet that is still very much relevant.
The iPad mini 6 also got a $50 discount. Nothing huge, but still a nice chunk off, considering its a fairly fresh model.
Best smartwatch deals during Walmart Deals for Days
The Apple Watch Series 7 got a hefty $70 off, which is a rarity for the newest models of Apple's wearables.
The chunky and stylish Galaxy Watch 4 Classic also got a hefty $112 discount, making it one of the best smartwatch deals during Prime Day 2022.
The regular Galaxy Watch 4 was $81 off, bringing its price below the $200 mark — a good buy for Samsung users, we hope some of you guys managed to snag that one!
Are there benefits to shopping from Walmart during Prime Day 2021?
First off, one of the major benefits to shopping from Walmart during Prime Day is the fact that you don't need Prime membership to get the deals. This makes deals over there more accessible to everyone with a store pickup. Walmart does have a subscription program called Walmart Plus: it gives you a free two-day delivery.

Another cool benefit to shopping from Walmart during Prime Day is that the big retailer offers many physical locations you can pick up your order from if you're in a hurry or don't want to wait for delivery.