Grab a 400GB SanDisk Extreme microSD card at its lowest ever price!
8
We may earn a commission if you make a purchase from the links on this page.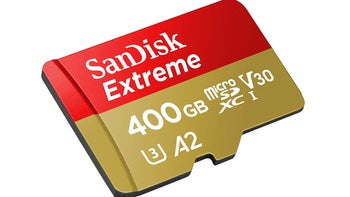 If you're looking to add a bit more storage to your mobile device—if your device even allows it—we've got a deal for you. For a limited time, Amazon has the SanDisk Extreme 400GB microSD cards on sale.
Cloud-based storage has made plenty of headway over the past few years, and there are many benefits to having files securely housed through such systems. But purists and power users tend to enjoy having lots of on-board space just in case, a point that Samsung last year aimed to drum home as it marketed the '1TB-ready' Galaxy Note 9. Suffice to say, plenty of consumers still prefer to have swathes of storage in their pockets, and if you'd count yourself among this group of serial hoarders, you'll surely be interested in today's deal. Not to mention, that this card is also perfect for use in digital cameras, not only phones.
But what's so Extreme about the SanDisk Extreme? No, it's not the massive 400GB capacity, but rather the fact that these cards have been designed to withstand extreme conditions, including exposure to water, dust, X-radiation, and intense temperatures. It's no slouch either, with its 90MB/s write and 160MB/s read speeds, SanDisk's Extreme cards are perfect for risky photography and videography. You may not survive the fall, but the SD card in your camera will! Check the link below for the deal: