iPhone Xc gets photographed from the rear just one day before Apple's event
24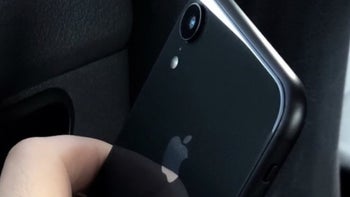 Tomorrow will undeniably be one of the biggest days in tech so far this year and, with just over 24 hours to go before
Apple's event
officially commences, the brand's
6.1-inch iPhone Xc
(or iPhone Xr or iPhone 9) appears to have been spotted from the rear.
Overall, it's fair to say that the design is rather similar to last year's
iPhone 8
. In fact, at first glance, it's hard to tell which is which. Fortunately, though, there are some key design differences that revolve around the camera.
Although the iPhone Xc is set to retain a single rear sensor, the actual size of the new camera is now much bigger and ultimately sits slightly closer to the top-left corner of the rear panel. In addition to this, the metal ring that wraps around it is now completely flat and forms a 90-degree angle with the glass. For comparison, last year's iPhone 8 made use of a much subtler ring which curved gradually into the rear panel. One final telltale sign is also the positioning of the microphone and dual-tone LED flash below the camera. After all, with last year's model, they previously sat on the right side of the sensor.
In terms of pricing and availability, the iPhone Xc is expected to cost $749 and will be available to pre-order this Friday, September 14. Following this, shipments will begin just seven days later on September 21. But it's worth noting that this particular model will reportedly only be available in
limited quantities initially
, so some delays are to be expected. When it comes to the colors, the device depicted in the image is wearing the brand's Space Grey color. However, consumers are expected to gain access to a wide range of other options upon launch including red, blue, and pink.