iPhone 6 and 6 Plus will be the first iPhones with 128 GB of storage
39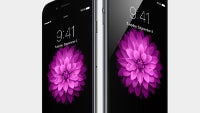 The new iPhone 6 series has finally been announced, and while there are tons of things to research and enjoy right now, one of the new things for Apple and its new iPhones kind of stood out. The iPhone 6 and 6 Plus will actually be the first iPhones ever to arrive with a maximum storage capacity of 128 GB!
So, that's obviously quite a lot of space (and it'll also cost quite a bit), but it's good to see Apple out its new iPhones with a 128 GB option, because microSD card support is still a no go. Additionally, Apple is getting rid of the 32 GB option, so at the end of the day, the new storage space options for the iPhone 6 and iPhone 6 Plus are the following:
16 GB

($199 for iPhone 6 | $299 for iPhone 6 Plus)

64 GB

($299 for iPhone 6 | $399 for iPhone 6 Plus)

128 GB

($399 for iPhone 6 | $499 for iPhone 6 Plus)
As usual each higher iteration will add $100 to the retail price of the model you're eyeing. By the way, the iPhone 6 starts at $199 with two-year contract, and the iPhone 6 Plus starts at $299 with two-year contract. Pre-orders for both will begin on September 12, with release date being set for September 19.