Disney AR Emoji have launched alongside the Samsung Galaxy S9 and S9+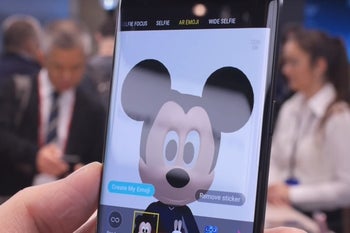 Today marks the launch of the Samsung
Galaxy S9
and S9+, and with them comes AR Emoji – Samsung's take on 3D avatars. The feature works by scanning your face using the front-facing camera and then creating a 3D avatar based on your appearance. We have an article on
how to use the AR Emoji feature
so feel free to check it out for some tips.
But in case you want to try out something different, you can turn yourself into Mickey or Minnie Mouse! Thanks to a long-term deal between Samsung and Disney, you'll be able to make AR Emoji using some of the most iconic Disney characters, with familiar faces from "The Incredibles", "Zootopia", and "Frozen" expected to appear by the end of the year. If you don't have the emblematic mice at your disposal, you can download them from the AR Emoji mode in the camera app.
So, what you can do using the Disney characters? Well, not much, to be honest. Currently, you can take a video or a picture of the AR Emoji of your choice. For example, if you smile, Mickey or Minnie will smile as well, following all other facial expressions you make. However, the camera won't track any body movements, meaning you won't be able to wave as Mickey Mouse.