Apple celebrates the Japanese New Year with gift cards and a special AirTag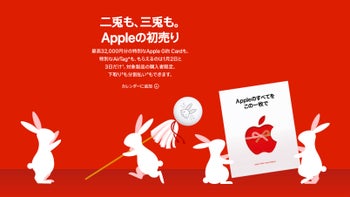 Apple is not particularly known for its shopping events. Unlike many of its competitors, like
Samsung
and OnePlus, the Cupertino company rarely discounts its products, especially the high-end ones. Good luck waiting to see the
iPhone 14 Pro Max
on sale.
Instead,
Apple
has developed its own way of handling shopping events. The company has a penchant for offering gift cards with the purchase of select products. This year, even Apple's Black Friday offers were limited to gift cards. The good thing is that Apple routinely celebrates many special events by offering gift cards.
The Japanese New Year is one occasion that Apple never misses, and
this year is no exception
. Apple Japan will be offering gift cards with a value of between ¥4,000 and ¥32,000 (the rough equivalent of about $30 and $240 respectively). This is on the generous side when it comes to Apple.
It should be noted that gift cards are an infinitely worse alternative to an actual sale, because you still have to spend the money saved at an Apple Store. This, coupled with the fact that the Apple gift cards, at least in the US, are not all that generous to begin with, makes most Apple shopping events underwhelming to say the least.
Apple Japan seems to know that and that is why they are adding a very nice personal touch to sweeten the deal. The first 30,000 customers that purchase an eligible iPhone will be receiving an exclusive
AirTag
with a rabbit engraving in order to commemorate the upcoming year of the rabbit.
The AirTag itself might be worth just under $30, but the fact that it is a limited-edition exclusive item makes it much more interesting. In Japan, at least, Apple has found a symbolic way to make it up to customers for the otherwise unremarkable deals. If Apple stores in the US won't start offering meaningful discounts, at the very least they can take a page out of Apple Japan's playbook.