Deal: Foldable ZTE Axon M now comes with a $100 gift card
1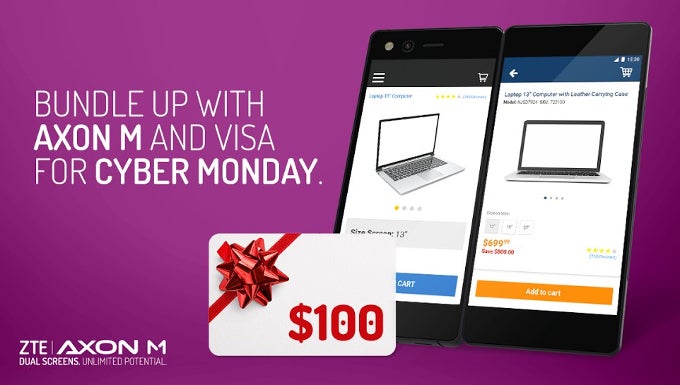 Exclusively released on AT&T at the beginning ofNovember, the ZTE Axon M is one of the most interesting smartphones of 2017, thanksto its dual-screen, foldable design. At the same time, we'd say this is alsoone of the least practical handsets in recent years.
If you like the Axon M, but you haven't bought it because ofits high price ($724.99), you may want to consider getting the phone now. For alimited time, ZTE and AT&T are offering a $100 Visa reward card to Axon Mbuyers - as long as they choose an eligible postpaid monthly service with voiceand data (at minimum $50 per month). The promo deal debuted yesterday, on CyberMonday, and it's still available as we type this (though it might expirein the coming days).
In our ZTE Axon M review, we found the device to be ratherunpolished for its $725 price tag, especially with so many great flagships outthere (some of which are less expensive). Still, if you think the Axon M is worthits price ($100 gift card included), you can go ahead and buy it from AT&Tvia the source link below.
source: AT&T