XtremeMac's InCharge Auto BT streams music to any car stereo with an auxiliary input
3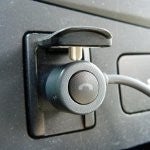 Not everyone has some sort of premium car stereo that features all the conveniences of built-in Bluetooth functionality, but for those lucky enough to have a nifty auxiliary-in port with their base car stereo, they'll be pleasantly surprised to see what
XtremeMac's InCharge Auto BT
has in store for them.
Sure you can play music stored on your handset by using some kind of FM transmitter, but its quality might be on the static side at times. Well, the InCharge Auto BT is essentially a car charger combined with
Bluetooth
that connects to your stereo via an
auxiliary-in port
. Actually, there's a physical multi-function button at end of the AUX-in jack that allows us to pair it to a smartphone, pickup phone calls, and pause/play music.
Interestingly enough, it's made specifically to work with the iPhone since it comes packaged along with the USB cable for the smartphone – thus, allowing us to charge the device through the charger simultaneously. However, you'll be able to use it with other smartphones as well. Audio quality is undoubtedly great seeing that the direct connection to the car stereo is less troublesome with interference. Additionally, the Bluetooth connection didn't drop or fluctuate during our testing.
Priced at
$79.99
, it might be perceived to be pricey considering the components on hand, but it's definitely a great solution if you want to have an exceptional hands-free experience. Then again, you can always opt to purchase a standard headphone-to-headphone cable if you want to spend less money.
source:
XtremeMac