Xperia Z1 coming with the "world's leading camera in a smartphone" according to a Sony press release leak, full specs list also in tow
55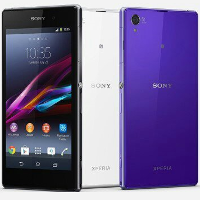 A Sony press release concerning theimminent unveiling of the Sony Xperia Z1 has been leaked and obtainedby the folks over at the XPERIA Blog, and it confirms a bunch ofthings, some juicier than other. Of course, with less than 4 hours leftuntil Sony's event starts over at IFA 2013 in Berlin, the fact thatsaid press release confirms pretty much everything that we knew isless interesting, so we won't go into too much detail on thethings that we do know.
Fortunately, there are quite a fewthings that we didn't know, or simply things that needed a moreclear-cut clarification. One such example is that the now confirmed20.7MP shooter has been proclaimed by Sony (basing this off of aconsumer study carried out by Strategy Analytics) as "the world'sleading camera in a smartphone". Of course, while the 1/2.3''ExmorRS sensor- and G Lens-touting unit sounds quite impressive, we'll gladly give credit to Sony, though only once we've had a chance to confirm thecapabilities of the Xperia Z1's snapper for ourselves.
The press release also puts theweight of the Sony Xperia Z1 at 170g, with dimensions of144x74x8.5mm, so it's a fair bit heavier and a tad bulkier than rivals(and even its predecessor, the XperiaZ). The Z1 will ship with Android 4.2 Jelly Bean running underthe hood, and is slated for a September launch, meaning the wait willvery soon be over. So stay tuned, for we have a lot of Xperia Z1-related coverage we'll be sharing with you very soon!
Sony Xperia Z1 press release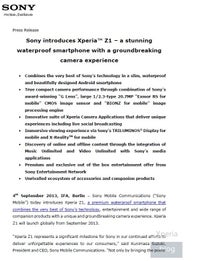 via: XPERIA Blog