Sony Xperia Z1 (Honami) round-up: release date, 20.7MP camera, 5-inch Triluminos display and Snapdragon 800
82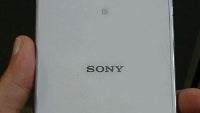 NOTE:
This post will be continuously updated as more information becomes available, so do check back every now and then.
Last update: 4/9/2013
You'll have to pardon this slight, for we're repeating ourselves: the Sony Xperia Z1 (aka Honami) has set the web on fire in a spectacular manner these last few weeks. With announcement day drawing ever closer, hype is reaching some dangerously high levels. This has meant that a kind of informational overload has been created, so even the geekier among you have started to feel a little fuzzy around the edges.
Luckily for you, there's no need to panic, for we're about to break it all down for you into easily digestible bits. A part of those are, strictly speaking, rumored/speculated information, but we nevertheless expect Sony's event on September 4 at IFA 2013 to announce a device with features largely identical to the ones below.