Worms 2: Armageddon arrives on Android, iOS with asynchronous multiplayer
2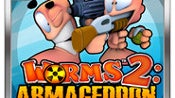 Worms 2: Armageddon has landed on Android's Google Play and Apple's iPhone and iPad bringing you a lot of worm action and napalm. This new game is similar to Worms as they are on consoles where you have to command your very own army of worms, place them strategically and take over the enemy's army.
To do that you have all weapons you can think of - from grenades and bazookas to the ultimate weapon of the poke. All is clad in cartoony visuals and fun sound effects.
Worms 2: Armageddon takes the player through 30 single player missions with plenty of playtime. There are new environments - Manhattan, Medieval, Sports, Construction and Cheese.
Best of all, you can play one-on-one against your friends via Wi-Fi asynchronously, meaning that you don't need to be online at all times and can play it turn by turn. And there is also local multiplayer for 2 to 4 players. The Worms franchise was among our favorites ever since it launched in the 90s, and this one seems to be a great sequel. It costs $5, but it seems well polished and not too spoiled by in-app purchases.
via
DroidGamers