Wordament for Windows Phone updated, adds 17 Xbox Live achievements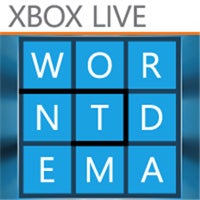 Microsoft continues to make a strong case for its Windows Phone platform, especially to gamers, by adding Xbox Live integration to one of its more popular games. Microsoft Studios' Wordament was released last year and has received great reviews in the Marketplace. The latest release includes a variety of improvements, but most interestingly, Xbox Live support.
First, Xbox players who put great care into racking up achievement points on their profiles will be happy to know that now Wordament offers 17 achievements that total up to a potential 200 points. Wordament also offers a customizable "Frenemies" list that lets you keep a list of the people you enjoy playing against the most. Those with Xbox Live accounts will have their Xbox Live friends automatically added to this list.
Beyond Xbox Live, the latest release of Wordament also features:
A completely updated visual design with beautiful backgrounds
By Request- 'Contains'- reveal every word a tile makes up on the results screen
Guest Mode- let someone else play, without compromising your stats
Multiple Languages - Currently UI only
Now with sounds! (Optional in the options menu)
Performance Improvements
Wordament is available for free in the Windows Phone Marketplace.