Windows Phone Marketplace finally gets a web interface
6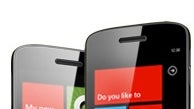 A good web interface seems paramount for the success of an application store and that's exactly what Microsoft's mobile platform has been missing until this very day. Now, however, the
Windows Phone Marketplace has made its debut on the web
and it's got pretty much everything that you're used to seeing in other application storefronts - ratings, detailed information about the app you're curious about, a download link, price and a list of top free and paid applications.
The main division in the new web interface for the Marketplace puts apps and games in two separate sections. For
apps
you have various categories ranging from "news + weather", "sports" and reaching "government + politics." Some of the categories are further divided in sub-sections making it easy to pin-point the exact area of apps you're looking for.
The
second section is dedicated to games
. Here again you have them divided by genre, and you can also select XBOX Live games, featured as well as free, paid and top ones.

And yep, that would pretty much render current
rival services
like WindowsPhoneAppList and WP7AppList useless, but currently they're still the first to show when you query the name of an app in search engines like Google. In the meantime, Windows Phone apps have steadily grown to over 30,000, so while they still have a long way to go to reach Android and iOS, you definitely have the basics covered. Hit the source link below to see the US version of the Marketplace web interface and chime in with your thoughts about how it looks like.