Windows Mobile 7 release date delayed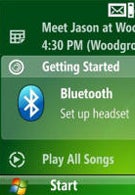 Although no public announcement in regards to the release date of Windows Mobile 7 was announced, Microsoft has informed some of its partners that it has delayed the release of the new operating system from early next year to the second half of next year. Among other features, the new operating system is expected to offer advanced gesture recognition, as well as improved speech input.
Microsoft was relatively quiet about the delay, only saying that it had met with 17 of the company's largest cell phone maker and carrier partners. "They all expressed their excitement of what we are doing in the short term and the long term," group product manager Scott Rockfeld said. Carriers have also been working with Microsoft to provide custom content separate from the core features of Windows Mobile. According to Microsoft, the company is willing to work with carriers to power their own services. "We're happy sharing the limelight," Rockfield said.
Though no major core updates are expected for Windows Mobile 6, the company has announced its intent to offer an improved web browser that brings the rendering engine of Internet Explorer 6 to Windows Mobile. With the new browser, users will be able to view flash-enabled websites and other rich content. The delay on Windows Mobile 7 comes amid renewed challenges by Microsoft to compete withthe features found in Apple's iPhone, as well as the recently announcedAndroid-powered HTC G1.
Source:
CNET News