White and Limited Edition (red) versions of the BlackBerry Passport snapped in high-res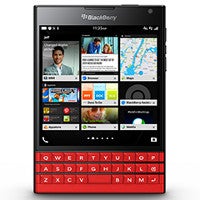 For whatever reason, BlackBerry keeps some pretty low-res images of the Passport on its online store, preventing us from getting a good look at the more uncommon white and Limited Edition red variants of the square-screened device. Thankfully, the folks over at
CrackBerry
seem to get that 2014 speeds allow the vast majority of internet users to browse photos that are >100 KB each, and staged a photo shoot with the aforementioned two models.
Having had the opportunity to check out the standard, black version of the Passport, we've got to say that we're glad that BlackBerry isn't limiting color options. That is not to say that the black model is unsightly or anything, just that this is a stylish device that would definitely go great with some white paint. We're a little less sure about the Limited Edition red variant – we'll have to see it in person before we can comment. If it's more of a dark "cherry" red, then we might just have our own favorite.
In case you're interested in picking up the Passport, know that only the black and white models are currently in stock over at BlackBerry's eStore. The Limited Edition red model is currently taking pre-orders and costs a hundred bucks more at $799. Shipping for that one is expected to commence on December 7th. If you're not yet acquainted with the handset, then we suggest you go through our in-depth
BlackBerry Passport review
.