WhatsApp for Windows Phone finally gets the all-important middle finger emoji
12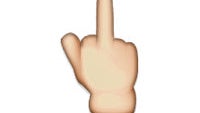 Windows Phone users are very much acclimatized to lagging behind when it comes to app updates. If you've recently been taunted by your iOS and Android-rocking friends about the lack of support for new emoji, your wait for revenge has arrived. WhatsApp for Windows Phone has just been bumped to version 2.12.170.0, and while there are a few tweaks here and there, the ability to give someone 'the finger' will likely be seen as the most valuable.
Emoji, for better or for worse, has become a primary method of expression on all forms of social media. Despite a broad choice, the ever-changing landscape of social media has
forced the hand
of the Unicode Consortium, and as such, we've a whole lot more options at our disposal.
Fashionably late, WhatsApp for Windows Phone has joined the party and aside from the profane hand gesture, a slew of other emoji icons can be found in the most recent public release. Away from that, there's also improved search and support for in-app notification sounds.
Compared with the Android and iOS editions, WhatsApp for Windows Phone is not currently as smooth as it might be. The features included here will be received gratefully, for sure. But here's hoping the popular chat app get some performance enhancements over the next few updates to bring it up to scratch with its peers.