Watch your favorite team on MLB.TV over any platform for free; all you need is a Wendy's Frosty
2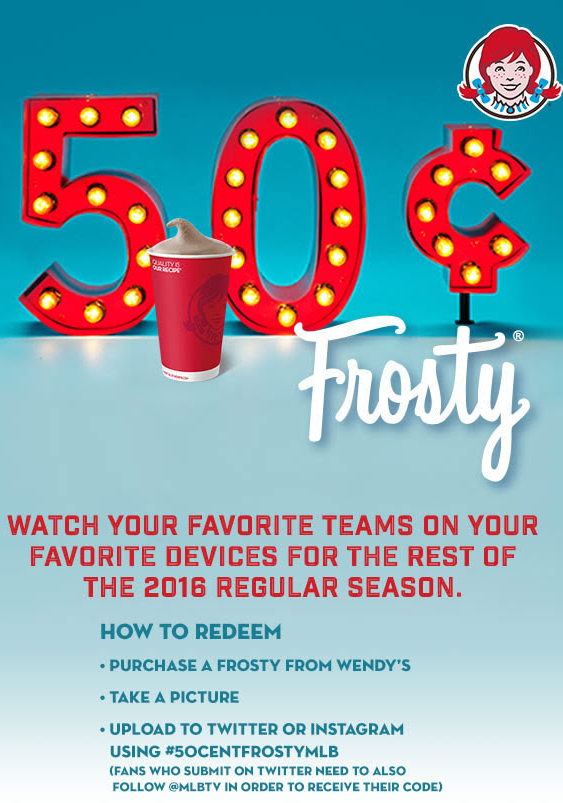 Share your Frosty on Instagram or Twitter and follow your favorite team on MLB.TV for free during the rest of the regular season
The Major League Baseball season has about five weeks left in the regular season. Thanks to the two Wild Card positions that are available in each league, the playoff race extends all the way down to Miami this year, where the Marlins are contending for a postseason slot. The team's last playoff appearance was in 2003 when they beat the New York Yankees to win the World Series.
Whether you're a Marlin fan or a fan of another MLB team, Wendy's is offering a spectacular deal. Order a Frosty, take a picture of it, and share it on Instagram or Twitter using the hashtag #50CentFrostyMLB. If you are within the first 34,000 to do so, you will get a free MLB.TV premium subscription for the remainder of the regular season!
This isn't like an order of small fries, folks. The subscription is normally $109.99 for the entire year. You will be able to watch games streamed to your phone, tablet, PC or television. And all it takes is a 50 cent purchase of a Frosty at Wendy's! One note. If you plan on sending the picture through Twitter, you need to follow @MLBTV in order to receive the necessary code.
The offer expires on August 31st and the free subscription runs through October 2nd. If you love baseball, this is a deal that you don't want to strike out on. Rush over to Wendy's now!
source: MLB.com Partners