Wahoo Balance Smartphone Scale to retail tomorrow for $99, calling all fitness freaks
1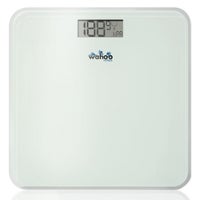 Smart scales are as good a way to freak about your extra caloric intake as any, but Wahoo claims that its Balance Smartphone Scale is different. The smart scale has an iOS app accompanying it that shouts at you with the voice of a drill sergeant when your weight inches higher than the goal.
Not really, but it was supposed to ship in the first week of December, give or take. It's been mostly give for now, yet the company let Engadget know that it will be shipping the Balance Smartphone Scale 12/12 - tomorrow, that is.
Wahoo's weight gadget costs $99, and can store 130 weighing times before sending the info to your iPhone via Bluetooth. Up to 16 different people can be followed, logging in the advancements towards target weight and BMI goals.