WSJ: Next iPhones could replace Lightning connector with USB-C
76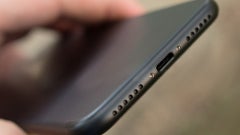 According to a new report from
The Wall Street Journal,
Apple could displace the proprietary Lightning connector of its iPhone series in favor of USB Type-C, and the 2017 models could be among the first recipients.
Cupertino has doubled down on its Lightning technology in recent years. Indeed, the
iPhone 7
and
7 Plus
ditched the 3.5 mm earphone jack, prompting a surge in demand for Lightning accessories and peripherals. On the other hand, Apple has adorned recent MacBooks with USB Type-C ports aplenty, and this creates quite the conflict. For example, how does one use their shiny new Lightning headphones with their shiny new MacBook Pro? Without an adapter, they simply
don't.
With further complications (and even more adapters) likely to appear if Apple tries to juggle the Lightning and USB-C standards long-term, has been speculated that the Mac maker eventually phase Lightning out of its iDevice range in favor of USB Type-C. This could happen as soon as later this year per the WSJ, which claims that the next-generation iPhone will include a
"USB-C port for the power cord and other peripheral devices instead of the company's original Lightning connector."
Should Apple replace Lightning with USB-C, it'd be good news not only for consumers, but accessory makers as well. Both USB-C and Lightning boast strong specs, but the former is more flexible, and given the MacBook moves, it's not beyond the realm of possibility that
the iPhone 7s / iPhone 8
will arrive sans a connector that has been around since the
iPhone 5
.
Meanwhile, the report also reiterates several previous rumors, including that Apple may deploy OLED display tech with the iPhone for the first time. It has been offered before now that a special 10th Anniversary edition could be rolled out as the iPhone 8 alongside the presumed iPhone 7s and 7s Plus, with the commemorative variant set to be the sole beneficiary of the OLED endeavors. Nothing is for certain this early on, but you can take a look at
our rumor round-up
for a more in-depth look at all things next-gen iPhone.
We'd certainly love to see Apple jump on the USB-C bandwagon, would you? Let us know in the comments below.