Version 3.8.22 of the Google Mobile App for BlackBerry is now available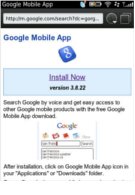 BlackBerry owners out there who rely heavily on Google's Mobile App will be pleased to know that version 3.8.22 is now available for the taking. However, there is no mention from Google at what new items are accompanying the update seeing that there is never a change log included with their applications.
Thankfully though, some users have already installed it and noted that it offers integrated searching of Gmail, contacts, and docs within the app itself. On top of that, you'll now have the option to sign on with different users without having the need to type them in each time since there is a drop-down user selection now enabled with it.
So if you haven't done so already, we'd suggest grabbing yourself a download to get situated with the latest version of the app. In order to get it, you can just simply point your handset's browser to m.google.com/search.
via
CrackBerry