Verizon introduces the Motorola Moto Z Play Droid and the Hasselblad True Zoom Moto Mod
2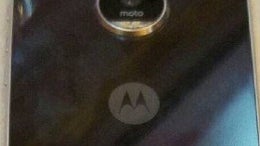 Yes Virginia, Verizon has three new Motorola DROID models that it will be selling over the next year. Besides the already available
Motorola Moto Z Droid
and the
Motorola Moto Z Force Droid
, the Motorola Moto Z Play Droid will be available starting September 8th at Motorola.com and through Verizon. Verizon and Motorola introduced the newest member of the Moto Z Droid family today. At Big Red, the handset will be offered via the Device Payment Plan for $17 a month. Or, buyers can shell out $408 for the handset. Those interested in the device can score up to $300 by trading in their current phone at a Verizon store or via the carrier's website.
The Motorola Moto Z Play Droid will feature the manufacturer's longest lasting battery ever; just 15-minutes of Turbo charging will give the unit up to 9 hours of battery life. The handset offers a 5.5-inch Super AMOLED display with a 1080 x 1920 resolution. The 16MP camera on back employs laser focus, and the device supports Verizon's Advanced Calling. When having a conversation with another person using Advanced Calling, it will sound like both of you are in the same room. Video chats are but a tap away. And yes, the Moto Z Play Droid is compatible with the Moto Mod accessories.
Also introduced today is the latest Moto Mod accessory, the Hasselblad True Zoom. Known throughout the world as one of the top camera manufacturers, Hasselblad's Moto Mod offers 10X optical zoom. This allows users to zoom in on a subject they are photographing without losing resolution. The Hasselblad True Zoom also supports the RAW format, and features a Xenon flash. Using magnets, the accessory quickly attaches to the Moto Z Droid, Moto Z Force Droid and Moto Z Play Droid
Pre-orders for the Hasselblad True Zoom will begin September 8th, priced at $249.99. The accessory launches online and in Verizon stores on September 15th. Verizon is offering a limited time deal that cuts the price of a second (equal or lower-priced) Moto Mod in half after the purchase of the first one.
If you're interested in any of the Moto Z Droid models, or the Moto Mod accessories, visit VerizonWireless.com/Droid. For those of you not using Verizon, GSM versions of both the
Motorola Moto Z
and
Motorola Moto Z Play
will be available from Motorola.com. Pre-sales will begin on September 15th, with the pair expected to be delivered the following month. In the U.S., T-Mobile and AT&T subscribers will be able to use this variant of the two phones.
source: Verizon, Motorola
Recommended Stories