Verizon Palm Pre 2 shows up on eBay, release date still unknown
1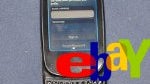 How about a Verizon-branded
Palm Pre 2
for $40? The upcoming handset popped up on eBay with a bad Electronic Serial Number (ESN) and initial price at around $40. The auction first claimed that the item was the first-gen Palm Pre, but then the seller fixed the mistake and added the name of the model - P102EWW. It looks like the seller might have realized that he had something much more valuable than the original Pre and shortly after the auction was pulled.
Palm's funny naming convention matches the "EWW" part with CDMA networks. Despite the brief appearance on eBay, the Verizon-flavored Palm Pre 2 still has no official release date. But you hardly missed
much
as with the bad ESN, which is basically a unique identifier, the device cannot be easily activated with Big Red.
Finally, with all the delays around the original Palm Pre, we are left wondering if the Pre 2 is really coming to Verizon. The GSM version of the handset (good for AT&T and T-Mobile)
was launched a month
ago for $450 on HP's website.
source:
eBay
via
PreCentral.net