Lenovo Smart Tabs can now make Alexa video and voice calls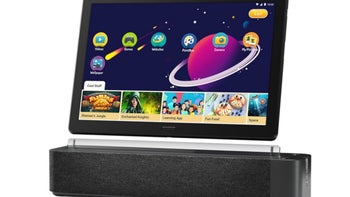 Lenovo's Smart Tab P10, Smart Tab M10FHD, and Smart Tab M10HD are tablets that when placed in their respective docks, turn into smart speakers with Alexa support.
Lenovo revealed yesterday
that the three Smart Tabs received an update that adds a new feature called Alexa Conversation. With Alexa Conversations, those with any of the three Lenovo Smart Tabs can make video and voice calls, send messages and make Alexa announcements. The latter is like a one-way intercom that allows users to 'broadcast" a message to other compatible Alexa-enabled devices.
To receive Alexa Conversation, users must update
the Alexa Show Mode app
(on the Google Play Store) and update the firmware on the dock. Another feature called "Drop-In" will be available later this year. This will allow users to connect immediately and have a two-way conversation with their other Alexa devices or their Alexa contacts. The Alexa Show Mode app is designed for the Lenovo Smart Tabs; it allows Alexa to display music, video, news, alarms, calendars, timers, reminders, weather, and more on these devices whether they are in or out of their docks.
The Lenovo Smart Tab P10 features a 10.1-inch LCD screen with a 1200 x 1920 FHD resolution. The device is powered by the Snapdragon 450 Mobile Platform and carries 4GB of memory and 64GB of storage. There is an 8MP camera on the back with a 5MP camera in front, a fingerprint scanner and four front-facing Dolby Atmos speakers. The tablet runs on Android 8 Oreo. The Smart Tab M10 has similar specs but includes 3GB of memory and 32GB of storage. It also has a camera combo of 5MP in back and 2MP in front and is equipped with two front-facing Dolby Atmos speakers.
The Lenovo Smart Tab M10 HD is the only one of the trio that runs on Android 9 Pie although its 10.1-inch display has a lower resolution of 800 x 1200 (HD). It is equipped with a Snapdragon 429 chipset, 3GB of memory and 32GB of storage. It also carries two front-facing speakers with a 5MP camera on the back and a 2MP camera in the front.