UPDATED:YouTube pulls new Storm 2 video, but new images showed flick scrolling and snappy screen
This article contains unofficial information.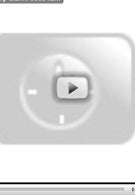 It would have been great to write to you and discuss the latest video showing off the BlackBerry Storm 2 9550. But the censors at YouTube apparently have to uphold some Terms of Use and when those are violated, well, they have no choice but to pull the video. In this case, it is a big shame because as we have seen in the series of videos about this handset, the Storm 2 is quickly becoming the exciting, feature rich model that many had expected the 9530 original version to have been. And considering the way that the first-gen Storm has captured the hearts of many users-including those who originally thought that Verizon and Rim should have pulled an Old Yeller on the device-the sequel version of the Storm really does look like a worthy challenger to the iPhone and the Palm Pre.
The video that isn't apparently showed a new feature for the Storm, flick scrolling. And as if to continue to show off in order to quiet the doubters, more proof of Wi-Fi is in the video. The accelerator is snappy and the browser rendered the Crackberry site without a problem, using
EDGE
over Rogers. As we
told you
just the other day, business users are expected to get their mitts on the Storm 2 September 29th while the rest of the  U.S. will have to wait for October 14th.
RIM BlackBerry Storm 2 9550 Preliminary Specifications
source:
Crackberry
*UPDATE*
Another YouTube video has surfaced showing 6 ways that the Vodafone version of the Storm 2 (9520) beats the Verizon version of the original Storm (9530).
*Update*:
It looks like YouTube has pulled the second video too...
source:
Crackberry