UBS survey shows Apple employees love the company and their boss
62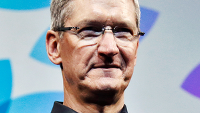 Swiss bank UBS has completed a survey of tech firms which found that Apple employees are the most optimistic about the future. Considering how well Apple rebounded from a rather dull 2013, the company has given its employees plenty of reasons to see the glass as being half full with a strong year for iPhone sales. The larger screens on the
Apple iPhone 6
(4.7-inches) and
Apple iPhone 6 Plus
(5.5-inches) are the impetus behind the strong showing for the handsets.
Apple took first place in all of the categories surveyed by UBS, including business outlook, culture, values, management and CEO. Speaking of Tim Cook, he received a higher score from Apple employees than the score given the rest of Apple's management team.
UBS tech analyst Steven Milunovich says that the employees' positive assessment of the company bodes well for Apple's future. The analyst added that he wasn't surprised to see Apple take the top spot among the tech firms polled. EMC finished second with NetApp, Cognizant, Accenture, HP and IBM completing the order of the remaining firms surveyed. While Apple finished first in each category, IBM finished dead last in each one.
source: AppleInsider