U.S. safety overseer supports Samsung's decision to put Galaxy Note 7 sales on hold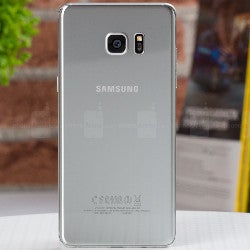 Even though Samsung has yet to confirm
a second global Galaxy Note 7 recall
, it's pretty clear that the move will happen sooner rather than later. For the time being, the South Korean company announced that it will put all Galaxy Note 7 sales on hold, so if you've pre-ordered yours, then you'll probably never get it if things prove to be
as worse as we've been telling you in the last couple of days
.
To highlight the fact that the Galaxy Note 7 case is of great importance not just for Samsung, but for customers too, the Consumer Product Safety Commission (CPSC) confirmed that it stands by the South Korean company's decision to halt sales of its phablets and continue
to investigate what's causing them to overheat and explode
.
In fact, Elliot Kaye, Chairman of the CPSC, said that
Samsung's decision to suspend Galaxy Note 7 sales
was definitely "the right move." Furthermore, the handset maker
issued another warning
to its customers earlier today, so if you own the Galaxy Note 7, old or new, we strongly recommend powering down the phone and stop using it.
All major carriers in the United States
have already put Galaxy Note 7 sales on hold and are offering other smartphones as replacements. You can also ask for a refund if you don't find anything suitable for your tastes.
If your Galaxy Note 7 overheats or catches fire, Kaye suggested that you should continue to report any safety issues with the phone to the CPSC, so they could escalate the problem further.
Last week, several cases of
exploding Galaxy Note 7 units
were reported in the United States and Asia. Perhaps that wouldn't have been a major problem (since we got used to it from last month), but these phones were tagged as "replacements," which means the battery problem hasn't been solved and these Galaxy Note 7 devices aren't safe as Samsung previously announced.