Galaxy Note 7 explodes as passengers board Louisville flight (Update: it was a 'safe' one)
99+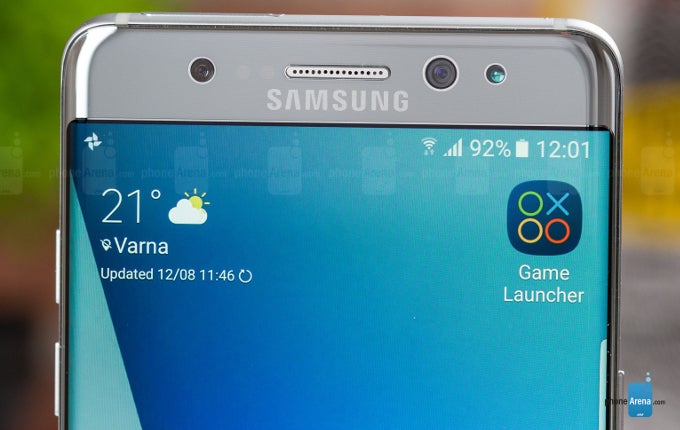 The Samsung Galaxy Note 7 recall efforts remain ongoing in the U.S.
Update:
Brian Green, the passenger in ownership of the Note 7 in question, has been in contact with
The Verge
and revealed a few worrying details of the incident. Specifically, he says he picked up the new device from AT&T on September 21st, which would, by default, render it of the 'safe' denomination. He also provided an image of the original packaging, which includes the
black square
that Samsung added to clearly signify a safe model.
Green says he powered the device down and placed it in his pocket as he boarded the plane, but it then began to emit a "thick grey-green angry smoke". He promptly dropped it onto the floor and a short while later, it had burned through the carpet of the plane. At the time of the incident, the Note 7 had about 80 percent battery and since it was in his pocket, seemingly wasn't on charge. Additionally, Green says he'd only been using wireless charging feature since he purchased it, rather than connected power-up through the USB Type-C port.
The Verge ran the IMEI through Samsung's recall checker and found that Green's device
should
have been of no cause for concern. If it's confirmed that Green's Note 7 was indeed one of the 'safe' newer models, a second recall for Samsung would very possible. This would be a
disaster
for Samsung not just financially, but wold also hit the company's fragile consumer relations.
The scrap to establish precise facts is underway and meanwhile, Samsung has had this to say on the matter.
Until we are able to retrieve the device, we cannot confirm that this incident involves the new Galaxy Note7. We are working with the authorities and Southwest now to recover the device and confirm the cause. Once we have examined the device we will have more information to share.
The device, which you may also see a snap of below, is now being held by the Louisville Fire Department's arson unit, according to The Verge's report. The US Consumer Product Safety Commission has also opened an investigation.
We previously heard of a Galaxy Note 7 owner in China
whose device apparently exploded
, damaging his MacBook in the process. Since all Galaxy Note 7 units intended for China were not kitted out with
the suspect SDI batteries
, the launch was People's Republic went ahead as planned right as the worldwide recall was commencing. If it's found that the
ATL batteries
are also susceptible to explosion, China would seemingly be a part of any secondary recall.
Brian Green, meanwhile, is apparently now an iPhone 7 owner.
The
Galaxy Note 7
recall has been underway for the best part of the month, and while Samsung appears to have rounded up a large portion of the faulty initial batch, getting each and every device recovered safely is going to be a tricky task indeed. As more
SDI-packing
Note 7 devices are phased out, the
theoretical
chance of a disruptive and or harmful incident decreases, but it only takes one. Today at Louisville International Airport, a Galaxy Note 7 exploded as passengers were boarding a flight which forced a prompt evacuation and caused minor damage to the plane.
As travelers were hopping aboard the Southwest Flight 994 to Baltimore on Wednesday, a Galaxy Note 7 overheated and began to emit smoke. Naturally, passengers were swiftly ushered off the plane so the issue could be dealt with. Apparently there were no injuries, although the carpet did suffer a little bit of damage.
This serves as a reminder, as if any was needed, that owners of recalled Note 7s should not sit back and ignore the issue. A small fire from a charging Galaxy Note 7 could rapidly turn into a big one, and, well,
you know the rest
. With dozens of reported fires and explosions, it's a miracle that nobody appears to have been seriously injured yet.
As we've said before
, if you got your Note 7 before the recall, power it down and take it back to wherever you purchased from. We get it -- your Note 7 has been running clean as a whistle since you bought it, you have it set up with all your apps in place and don't want to go through the hassle of dealing with customer services.
But if your Note 7
does
happen to explode while on charge, you'll have a lot more inconvenience to contend with -- not to mention damage to property and potential harm to yourself and those around you.
Recommended Stories