So what else could be causing Samsung Galaxy Note 7 units to explode?
99+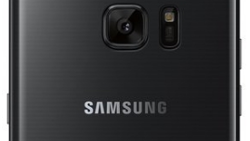 When the
Samsung Galaxy Note 7
first started exploding, the focus was naturally on a malfunction with the battery. The cells,
which ironically were manufactured by Samsung
, became the culprit. Chinese battery producer ATL, whose product was found in 30% of the original Galaxy Note 7 units, was given the task of supplying batteries for the replacement units.
And now that the so-called "safer" Samsung Galaxy Note 7 has been catching on fire and exploding,
the manufacturer is adjusting shipping volumes of the phablet
in order to maintain tighter control over production. The fact that the replacement units have been exploding seems to indicate that the real issue with the phone goes beyond one battery manufacturer. An assistant professor of mechanical engineering at Carnegie Mellon University by the name of Venkat Viswanathan, suggests that the battery's voltage control system could be at fault. The professor also says that low quality material used inside the cells could be part of the reason.
Cho Jae-phil, director for the Future Batteries Research Center, says that producing the large number of batteries required for the replacement units in such a short time might have led to some shortfalls in QC. "More quality issues can surface when you have a supplier trying to mass produce batteries in a short amount of time," Mr. Cho said.
Many analysts are saying that if there is one bit of good news for Samsung, the explosions took place on the Galaxy Note 7 and not a Galaxy S flagship model. S.R. Kwon, an analyst at Dongbu Securities in Seoul, noted that Samsung sells three times as many Galaxy S handsets as it does Galaxy Note models. But there could be a problem lurking there in the background. The
Samsung Galaxy S7 edge
has had a few units explode. One such incident
resulted in the hospitalization of a Galaxy S7 edge owner
who suffered second and third degree burns and wound up in the hospital for a painful skin graft. The victim, Daniel Ramirez, is suing Samsung in the Superior Court of New Jersey.
source:
WSJ