Samsung tells ALL Galaxy Note 7 owners to power down the device – original AND replacement models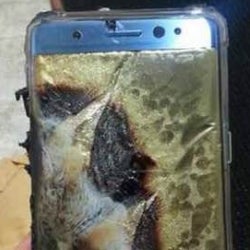 Samsung has issued a press release this afternoon related to the
Samsung Galaxy Note 7
replacement units. Since last week, at least six of them have exploded including the latest incident that took place at a South Korean Burger King. That explosion
was caught on video
. Supposedly a "safer" version of the phablet because of the different battery employed on the model, the replacement units have proven to be as dangerous as the original models.
Samsung is telling all consumers with an original or replacement Samsung Galaxy Note 7, to shut down the phone immediately and refrain from using it. The company is also telling its retail partners worldwide, including carriers, to stop exchanging recalled Galaxy Note 7 phablets for the replacement model. In addition, Samsung is ordering its global partners not to sell the phone to anyone.
The manufacturer said that it is working with regulatory agencies to investigate the recent explosions including
the one that took place last Wednesday inside a Southwest Airlines jet
heading from Louisville to Baltimore. That Galaxy Note 7 exploded while passengers were boarding the plane. Had it gone off 40 minutes later, it might have been a very tragic tale.
"We are working with relevant regulatory bodies to investigate the recently reported cases involving the Galaxy Note7. Because consumers' safety remains our top priority, Samsung will ask all carrier and retail partners globally to stop sales and exchanges of the Galaxy Note7 while the investigation is taking place.

We remain committed to working diligently with appropriate regulatory authorities to take all necessary steps to resolve the situation. Consumers with either an original Galaxy Note7 or replacement Galaxy Note7 device should power down and stop using the device and take advantage of the remedies available."-Samsung
Please heed Sammy's warning. If you own either version of the Galaxy Note 7, shut it off and bring it back to your carrier. Most major U.S. wireless operators will allow you to exchange either unit for a brand new phone.
source: Samsung