Take up to $500 off the Samsung Galaxy Note 10+ with trade and score an extra $200 Samsung credit
5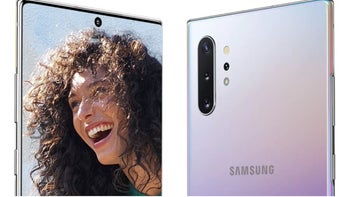 To check out all of the conditions related to this deal, you'll need to
visit Samsung's website
. Devices being traded-in must come from Samsung, Apple, or Google and needs to be in working condition with no cracks on the display. The
Apple iPhone XS Max
and the
Samsung Galaxy S10+
will fetch you the maximum $500 off of the Galaxy Note 10+ taking the price of the 256GB model down to $599.99 or $25 a month for 24 months. And to reiterate, you will get a $200 Samsung.com credit or a wearables bundle that includes the Galaxy Buds and a Galaxy Fit (valued at $229.98).
The devices being accepted in the deal and the amount Samsung will credit you include:
APPLE
iPhone XS Max-$500
iPhone XS-$400
iPhone XR-$350
iPhone X-$300
iPhone 8 Plus-$225
iPhone 8-$200
iPhone 7 Plus-$160
iPhone 7-$110
iPhone 6s Plus-$90
iPhone 6s-$75
SAMSUNG
Galaxy S10+-$500
Galaxy S10-$400
Galaxy S10e-$350
Galaxy Note 9-$300
Galaxy S9+-$225
Galaxy S9-$200
Galaxy Note 8-$175
Galaxy S8+-$160
Galaxy S8 Active-$150
Galaxy S8-$110
Galaxy S7 edge-$90
Galaxy S7 Active-$75
Galaxy S7-$75
GOOGLE
Pixel 3 XL-$275
Pixel 3-$250
Pixel 2 XL-$125
Pixel 2-$100
Pixel XL-$75
Pixel-$50
On Samsung's web site you'll select the configuration of the
Galaxy Note 10
+ you want and choose between the $200 credit or the wearables bundle. You will also click on the trade-in
option and pick out the model that you are trading in. The device that you're trading in must be factory reset and sent to Samsung within 15 days after receiving your new Galaxy Note 10+.