T-Mobile shares list of Samsung and HTC phones that will get Android 7.0 Nougat updates
10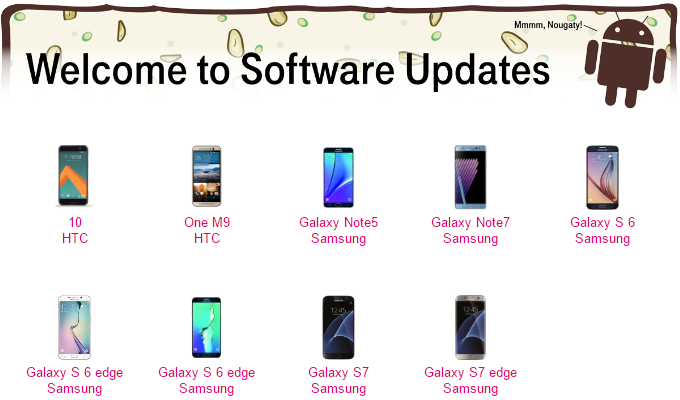 While
Android 7.0 Nougat
is
already available for select Nexus models
, owners of other devices will seemingly have to wait at least a few more months before getting the Nougat update. And it's going to be worse for devices bought from carriers, since testing software updates usually takes longer in this case. Nevertheless, if you're a T-Mobile USA user, you should know that the carrier today shared a list of handsets that will definitely get Android 7.0 Nougat, though it's not clear exactly when.
The list currently includes two phones made by HTC, and seven made by Samsung:
HTC 10
HTC One M9
Samsung Galaxy S6
Samsung Galaxy S6 edge
Samsung Galaxy S6 edge+
Samsung Galaxy S7
Samsung Galaxy S7 edge
Samsung Galaxy Note 5
Samsung Galaxy Note 7
It doesn't look like any of these T-Mobile handsets will be updated in the near future, as they're all in the first stage of the upgrade process: Manufacturer Development. Basically, this means that "T-Mobile and the device manufacturer have agreed to support a new software update", but testing has not yet begun.
The list is almost certainly not a definitive one, and we're confident that other devices (like the LG V10 and LG G5) will be added to it soon.
Previously, HTC announced that its
unlocked HTC 10 should be updated to Nougat
in the fourth quarter of the year (sometime between October and December), with the unlocked One M9 to follow later. As for Samsung, the company expects the
Galaxy Note 7 to get Nougat
in 2 to 3 months from now, but there's no timeline for the rest of its devices.
source:
T-Mobile
via
TmoNews