T-Mobile releases a series of "Jump" commercials starring SNL's Bill Hader, giving away 730 Galaxy S4s
5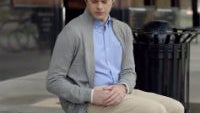 A big part of today's announcement from T-Mobile is the "Jump" program, which is designed to let customers trade in their device for a new one up to twice a year. The program is a combination of protection plan, as well as offering more frequent upgrades rather than having to wait 24 months. So, the carrier has made a number of commercials starring SNL's Bill Hader, and it is also starting a contest which will see 730 Samsung Galaxy S4s given away.
Why 730? Because that's how many days are in a 24 month period, and the idea is that a lot of things can happen in those 730 days that could lead you to want to trade in your device. It could be sat on, get water damage, or maybe you just want the new hotness that has come out. With that in mind, T-Mobile is starting a contest where you can make a video or photo about what could happen in that 730 day span. Just post it to Twitter with the hashtag #Hate2Wait, or you can enter by liking the contest page on Facebook.
While 730 people will win a Galaxy S4, one person with the best video or photo will win the grand prize, which is one year of free service on T-Mobile, and possible inclusion of your creation in an official T-Mobile ad.