Syrian cell networks and Internet are down, citizens claim interference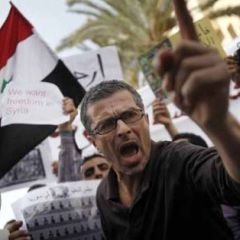 In Syria,
communication networks, including cell phones and Internet, are down
. Local residents are claiming that it is a deliberate
act of interference
by the existing regime, but government officials insist it is merely a technical issue.
The
network failures follow a number of arrests of pro-democracy activists
. At least 46 people were arrested in government raids, and between 4 and 8 people have been reportedly killed. One witness told the AFP that security forces were using live ammunition to deter citizens throwing stones.
Eight human rights groups jointly condemned the violent manner in which the government handled the peaceful protests in Douma, just north of Damascus: "We condemn this extremely violent and unjustified way the Syrian security services dealt with peaceful rallies in Douma where police used excessive force against demonstrators."
A customer service representative at Syria's mobile and Internet provider told the AFP that
the outage "was due to an overload of connections"
. And given the level of unrest, and their greater dependence on mobile networks vs. landlines, that sounds realistic. But both major Syrian phone companies, Syriatel and MTN, have made their loyalty to the current regime clear by offering free minutes in honor of those who demonstrated on behalf of President Al Assad. Now don't we feel silly for complaining about miniscule dropped call rates?
source:
Gulf News
via
Textually