U.S. gov't working on a panic button for captured democratic activists
8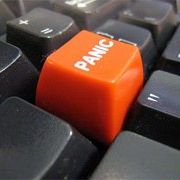 As you're surely aware, new media technologies, including cellphones, have played a key role in recent uprisings around the globe. And the U.S. government is working on an app of sorts that would protect these democracy campaigners.
This "panic button" would be capable of deleting the user's phonebook, while also sending a warning message to fellow campaigners
.
This project falls under the purview of the U.S. State Department, and is a part of Secretary of State Hillary Clinton's efforts to expand Internet freedoms. Their first such initiative took place during the Iranian election protests of 2009, where they convinced Twitter to delay an update that would have cut communication from Iranian protest organizers.
Since 2008, they've budgeted
$50 million to fund and promote new circumvention technologies
. Michael Posner, the assistant U.S. Secretary of State, explains that they're "operating like venture capitalists...looking for the most innovative people who are going to tailor their technology and their expertise to the particular community of people [they're] trying to protect."
Posner admits that these circumvention technologies carry risks, namely the
potential for use by drug cartels and terrorist organizations
. But Posner purports that groups like al Qaeda probably have their own systems in place, and the U.S. gov't is focusing on protecting "people who are, in a peaceful manner, working for human rights and working to have a more open debate."
source:
Reuters
via
Engadget