Supposed system dump reveals G4 models with QHD displays, 3K resolution variant to be a limited edition?
6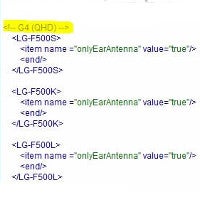 Being the first manufacturer to make Quad HD displays widely available to the masses with the G3, most of you will agree that as pixel-dense a screen is also likely with the upcoming LG G4. A system dump from the Android 5.0 Lollipop-touting LG G3 (F400L), spotted by
MyLGPhones
, seemingly confirms as much – the F500L, F500K, and F500S models are all listed there with 1440 x 2560 pixels. The trio is likely headed for South Korea's three largest telecoms – LGT, KTF, and SKT.
The XML file in question, located in the root
/etc/dmb_conf.xml
folder if you're curious, makes no mention of another rumored LG G4 version we recently heard about – the LG-VS999, which will supposedly come with an even crazier resolution of 1620 x 2880 pixels. If this is, indeed, a G4 model (not at all clear at this point), it could end up being a limited edition of the flagship, meant to showcase LG Display's continuing progress in developing very small, super pixel-dense panels.
The system dump also makes mention of the 1080 x 1920 resolution OLED display-touting LG G Flex 2, along with an unknown device codenamed C90 (HD), which could be a successor to the LG L90.
More as we get it.