Supposed OPPO Find 9 renders show extra thin bezels and all-screen design
5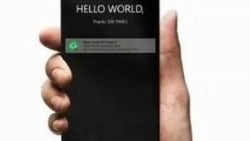 When it comes to elusive smartphones, the Oppo Find 9 has to be it. If we had "vaporware" awards here at PhoneArena, this one would have won for two years in a row now. Announced back in March 2014, the Chinese company's then-flagship smartphone, the
Oppo Find 7
(which succeeded the
Find 5
), has been left without a heir since – which is incredibly unusual, considering the rapid pace of smartphone development where six-month upgrades (and sometimes less) are hardly surprising. We basically assumed that Oppo quietly retired its Find line in favor of its R-series, yet the odd Find 9 rumor keeps rearing its head now and then.
Two alleged renders of the now "legendary" smartphone showed up in the Chinese cyberspace, portraying the Oppo Find 9 with an "all-screen" design – rather fragile looking at that, considering the super-slim top and bottom bezels. If you thought those leaked Galaxy S8 renders we've been dealing with for the past week or two looked extra-special, the Find 9 seems next-level.
Now, Oppo is no stranger to experimenting – it had an almost bezel-free phone in the making (we think it ended up being the Oppo F1, though we aren't totally sure) with an innovative design that diffracts light at its very edges, creating an illusion of invisible borders. So it could, theoretically, pull off a design like that with the Find 9. But we'd rather not take these leaked images at face value – after all, we've seen many Find 9 leaks, but still no smartphone in sight. The latest release date rumors point towards the first half of 2017. As for specs, we're clued in to two versions powered by Qualcomm's Snapdragon 653 (mid-range) and Snapdragon 835 (premium tier) chips with up to 6GB of RAM and 128GB of storage.
There's only two ways this could go – either we have another year full of rather predictable speculations and fancy leaked images, or Oppo finally releases the Find 9 in 2017. We're genuinely curious for the eventual turnout.
ALSO READ