Steve Ballmer switching Clippers from iPads to Windows
35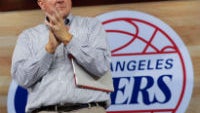 Steve Ballmer may not be the CEO of Microsoft anymore, but that doesn't mean he has given up his allegiance to the company and its products. Ballmer is now the owner of the Los Angeles Clippers, and it probably shouldn't be a surprise that he has plans to switch the team away from using iPads towards using Windows devices.
In an interview with
Reuters
, Ballmer promised to make the Clippers experience the best for fans, regardless of if they come to games in person or via a mobile device. He also noted that while most of the team uses Windows, "some of the players and coaches" use iPads, and it is a project for Ballmer to convert those to Windows devices. Coach Doc Rivers assumed that would be the case when Ballmer took over, but Ballmer has promised to be smart about the transition and to only make the change during the offseason.
Ballmer also took a moment to lament his failures at Microsoft, saying that he wished a larger proportion of mobile devices were from Microsoft, and that his company would have "birthed that category". Unfortunately, his former company is still playing catch-up to Google and Apple.