Spotlight: Voisi Recorder is a pretty cool Android voice recording app that wants you to beta-test it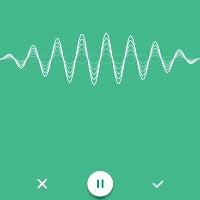 For all of you struggling to record their phone calls, here's an up and coming app that's still in its beta-testing period, but shows plenty of promise and polish already. This is Voisi Recorder, a no-root phone call and voice recorder that's also free! Upon launching it, right off the bat we noticed that it's among the simplest, finest looking apps of its kind. The Material look and feel is strong in here, probably making a Google designer shed a proud tear someplace, somewhere.
Moving on to functionality, Voisi Recorder features almost everything you'd expect. You can record phone calls and store voice notes. These can be sync'd with ongoing calendar events and recorded in just one click right from the notification bar. This way, you can easily start, stop, and browse through your recordings.
You can also leave text notes, listen, and share your recordings. For keeping things alive in times of danger, one can also backup their recordings and messages to their email account. Not everything recordable is to be recorded, though! For that, the user's able to choose what calls to record - be it all calls, unknown numbers, or just calls from your contacts.
In regards to sound quality, Voisi features a number of enhancements to make the most out of your device's microphones. There are echo, noise suppression, and silence detection algorithms on-board. And in addition to that, we have Bluetooth headset and speaker connectivity taken care of.
Being in a beta state, Voisi may not always work on every phone and every call, but the application is still stable and should be up to standard. We also give major props to the developer for sticking to this wonderful mentality —
"Voisi Recorder is intended to be free app, because we've looked for easy and comfortable call and meetings recording for many years and couldn't find one."