Sony Xperia XZ2 Compact vs Pixel 2 vs iPhone 8 specs comparison: Which has the upper hand?
12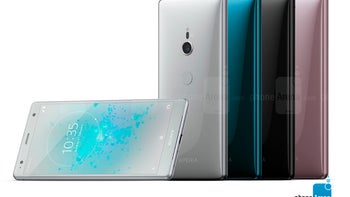 Sony has a long tradition of introducing compact devices with no-compromise hardware and the all-new XZ2 Compact is the latest Sony device that meets those criteria. With a Snapdragon 845, it will possibly be the most powerful 5-inch Android phone in the coming months.
And indeed, with a Snapdragon 845 inside, one could only hardly find a more able-bodied phone that keeps the overall footprint overly pocketable.
However, the Xperia XZ2 Compact has a bunch of caveats of its own. Despite its super-thick body of 12.1mm, it only houses a 2,870mAh battery, which sounds like awful space management of the internal parts. We've seen similarly-sized phones with large 4,000 batteries, so we wonder what exactly commanded the lack of a larger unit in Sony's new compact phone. You might argue that headphone jacks usually command a fair amount of space, but the device doesn't have that one and the mystery thickens.
Here's how the XZ2 Compact fares against the lot of its rivals on the compact phone market.
625 cd/m2 (nit)
700 cd/m2 (nit)
Pressure-sensitive, Oleophobic coating, Scratch-resistant glass, Ambient light sensor, Proximity sensor
Scratch-resistant glass, Ambient light sensor, Proximity sensor
HDR support, Scratch-resistant glass, Ambient light sensor, Proximity sensor
Apple A11 Bionic APL1W72 (10 nm)
Qualcomm Snapdragon 835 MSM8998 (10 nm)
Qualcomm Snapdragon 845 SDM845 (10 nm)
Hexa-core, 2390 MHz, Monsoon and Mistral, 64-bit
Octa-core, 2350 MHz, Kryo 280, 64-bit
Octa-core, 2800 MHz, Kryo 385, 64-bit
Apple 3-core GPU
Adreno 540
Adreno 630
256GB, not expandable
128GB, not expandable
64GB
iOS (15.x, 14.x, 13.x, 12.x, 11.x)
Android (11, 10, 9.0 Pie, 8.1 Oreo, 8.0 Oreo)
Android (8.0 Oreo)
USB Power Delivery
USB Power Delivery
Qualcomm Quick Charge 3.0, USB Power Delivery
14.00 hours
the

average

is 11 h (660 min)
10.80 hours
the

average

is 11 h (660 min)
21.2 days (510 hours)
the

average

is 29 days (688 h)
20.80 hours
the

average

is 0 h (0 min)
22.9 days (550 hours)
the

average

is 0 days (0 h)
20.8 days (500 hours)
the

average

is 20 days (472 h)
Single camera
Single camera
Single camera
12 MP (Sapphire crystal lens cover, OIS, PDAF, CMOS image sensor, BSI sensor)
12.2 MP (OIS, Laser and PDAF, CMOS image sensor)
19 MP (Laser and PDAF, CMOS image sensor)
Aperture size: F1.8; Focal length: 28 mm; Sensor size: 1/3"; Pixel size: 1.22 μm
Aperture size: F1.8; Focal length: 27 mm; Sensor size: 1/2.6"; Pixel size: 1.4 μm
Aperture size: F2.0; Focal length: 25 mm; Sensor size: 1/2.3"; Pixel size: 1.22 μm
3840x2160 (4K UHD) (60 fps), 1920x1080 (Full HD) (240 fps)
3840x2160 (4K UHD) (30 fps), 1920x1080 (Full HD) (120 fps), 1280x720 (HD) (240 fps)
3840x2160 (4K UHD) (60 fps), 1920x1080 (Full HD) (960 fps), 1280x720 (HD)
OIS, Time-lapse video, Continuous autofocus, Picture-taking during video recording, Video light
OIS, EIS, Video calling, Video sharing
HDR, Time-lapse video, EIS, Video calling, Video sharing
7 MP
8 MP
5 MP
1920x1080 (Full HD) (30 fps)
1920x1080 (Full HD) (30 fps)
1920x1080 (Full HD) (30 fps)
5.45 x 2.65 x 0.29 inches (138.4 x 67.3 x 7.3 mm)
5.74 x 2.74 x 0.31 inches (145.7 x 69.7 x 7.8 mm)
5.31 x 2.56 x 0.48 inches (135 x 65 x 12.1 mm)
5.22 oz (148.0 g)
the

average

is 6 oz (171 g)
5.04 oz (143.0 g)
the

average

is 6 oz (171 g)
5.93 oz (168.0 g)
the

average

is 6 oz (171 g)
Back: Glass; Frame: Aluminum
Back: Aluminum, Glass
Back: Plastic; Frame: Aluminum
Water, Dust; IP67
Water, Dust; IP67
Water, Dust; IP68
Fingerprint (touch)
Fingerprint (touch)
Fingerprint (touch)