Sony Ericsson to announce environment-friendly phones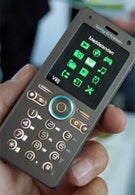 It seems that after showcasing its environmentally friendly GreenHeart (pictured) prototype last September,
Sony Ericsson
have devoted time to incorporate certain aspects of the GreenHeart concept into other upcoming phones. What we are promised by the manufacturer now is that their first commercial environmentally friendly products are on the way and soon to be announced. The event, at which more information is to be disclosed, is scheduled for this Thursday, at 13:00 GMT and you can tune in to the interactive video webcast as well.
source:
SonyEricsson