SoftBank CEO: Technology with emotions and intelligence, the next big challenge for mankind
10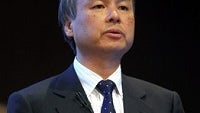 SoftBank founder, CEO, and owner of Sprint, Masayoshi Son has a grand idea about the future, and some of it could conceivably spell bad news for mobile communications.
Mr. Son is known for his aggressive business style, and love of technology. One of his most recent initiatives was the introduction of the robot called Pepper, an artificial intelligence platform put to work at several
SoftBank retail locations
, and soon to be available for sale for roughly $2,000.
What does he envision in our future? Well for one thing, he believes that Moore's Law is going to continue to drive swift advances in technology to the point that our computers will be able to process emotions and intelligence beyond our own capabilities, "That, I believe, is the correct evolution of the computer brain." Such a leap in technology would be a real test to humans.
Masayoshi Son also believes that technology will drive the cultivation of medical science to a point that could enable humans to live as long as 200 years, and one day, people will communicate via telepathy. Some of this seems a bit too far reaching, but if and when we can communicate telepathically, we could see that as a bit of a downer for the wireless industry.
source:
The Wall Street Journal