Tell the world that you are a proud Snapchat member by purchasing something from the new Snap Store
7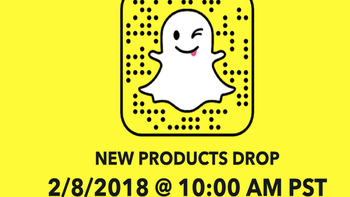 Snapchat parent Snap announced today the opening of the Snap Store, which will sell you merchandise based on Snapchat features. For example, you can buy a Dog Lens T-Shirt for $30. Scanning the code at the top of this story using the Snapchat camera will allow you to enter the store and purchase exclusive items that will be on sale for a limited time. When in the store for the first time, you can subscribe to the Snap Store, which will allow it to pop up in the Discover section of the app when new merchandise is available. That will next happen on February 8th, one week from today.
Current items available from the Snap Store include:
Dancing Hot Dog Plush Doll: $19.99
Streak Hat: $29.99
Winkface Sweatshirt: $49.99
Dog Lens Tee: $29.99
Bring Back Best Friends Sweatshirt: $49.99
As you can see, the Snap Store is not designed to help the company monetize itself to the point that its market capitalization of $16.7 billion makes sense. A few years down the road, that might be more realistic. For now, it is a place where the Snapchat community can go to buy items that say, "I am a proud Snapchat member." One thing to consider, if this does perform well, more messaging apps will start up their own in-app stores to sell branded merchandise. If there is one thing that we've learned over the last few years, messaging apps are copycats.
source: TechCrunch