Snapchat adds Group Video Chat and Mentions
1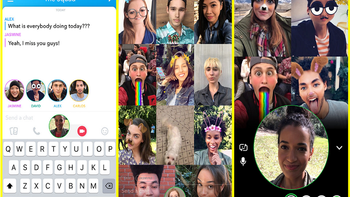 Snapchat introduced a couple of new features today including a Group Video Chat option. This means that Snapchat users can now be seen and heard by as many as 16 friends and family members at one time. If you want to put together a group to share audio only, up to 32 friends and family members can be included in a group call. And there is great news for those who like general tomfoolery; Lenses are available to use during a group video chat.
To make a group video or audio chat, you can create a new Group Chat or open an existing one. You can then tap the video icon or the phone icon to start a video chat or an audio chat, respectively. All members of the group will receive a notification and can respond to join the video or audio chat group.
Snapchat also announced today that it will start supporting Mentions for its Stories feature. Whenever a Snapchat user posts the name of another member on a Story, that person will receive a notification that they were mentioned. The Snapchat user composing a Story only needs to write the other member's Snapchat handle, and suggestions will appear on the screen. This should make it a (ahem) snap to tag the right person.
The new features will be available to Snapchat members as soon as this week, although it could take a few weeks for the global rollout to be complete.
source:
Snapchat