Smart Cover for the new iPad and iPad 2 has your back covered, literally
3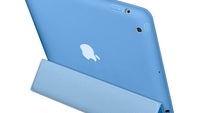 As it was
rumored back in March
,
Apple has redesigned the iPad Smart Covers
by adding protection to the back of the tablet. That was possibly the accessory's biggest flaw, which plenty of third party case manufacturers attempted to address with their alternatives. If you purchase a Smart Cover from the Apple Store, you may customize it by having text engraved on its back side.
Other than that, there isn't anything new – the accessory behaves just like it did before. It can perform the usual acrobatics, like helping your iPad stand upright in landscape mode, and making the device more comfortable to type on.
If you want to get yourself a new Smart Cover, prepare to drop $49 on one. Be aware, however, that only the new iPad and the iPad 2 can fit. You can have the accessory in light grey, dark grey, blue, green, pink, or red.